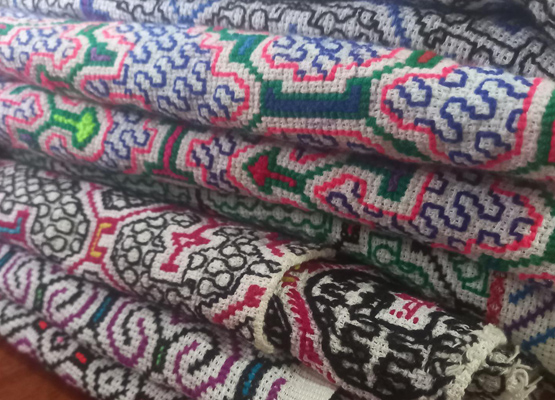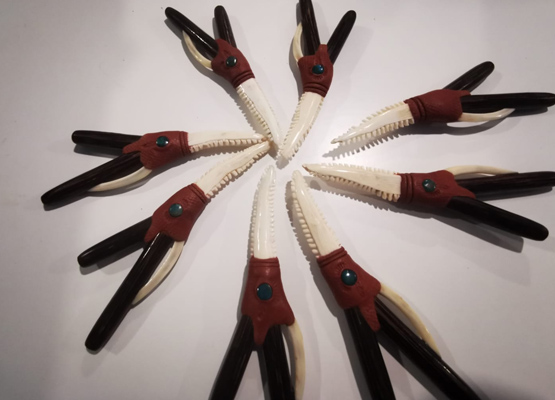 Tzumi Muraya EIRL offer a wide range of handicraft and indigenous art, like painted and emboirdered textiles in different sizes, completely or partly emboirdered mantas, emboirdered bags, painted and/or emboirdered shorts, trousers and shirts, ceremonial kushmas, or traditional instruments like shacapas or maracas, all handmade by the Shipibo Conibo Indians that we closely work with. Tzumi Muraya also sell and export different models of (Brasilian) kuripes or wooden handcrafted pipes from the Amazon on request and availability.
Maracas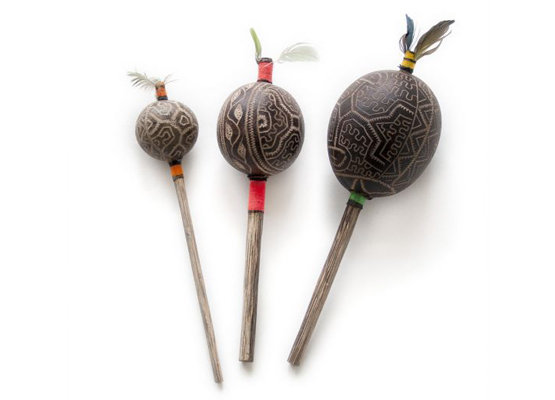 Our traditional maracas are handcrafted by the Shipibo Conibo from Pucallpa and available in different sizes – small – medium – and big size.
The body is made from Calabash and the handle from the Chonta tree. They are filled with Achira seeds and decorated and carved with traditional designs - representing the traditional icaro song patterns which are sung by the shamans during Ayahuasca ceremonies.
Shacapas
Called 'wind of the jungle', is a kind of palm frond made from the leaves of Pariana stenolemma tutin. It is mostly used by Shamans in the Amazon basin as a rhythm and healing instrument during Ayahuasca ceremonies or during personal healing where the shacapa is rubbed and rattled over or near the patient's body while singing an icaro (medicine song). This cleanses, refreshes and harmonises the energy field. The shamans have a wide range of movements which produce different sounds and energies.

Avaialble in small size and medium/big size.